A Bespoke Travel Management Company
Aspire started in 2001 as a one-woman agency. Today we're a Travel Management & Travel Media company and we've grown stronger ever since. Helping our clients in "how to" create the perfect travel experience by providing valuable expertise that drive life & work efficiency, supporting our clients in getting their aspirations in life and business into focus.
A foundation of understanding & involvement in clients' needs and on creating profound relationships remains the pillars around which we are centered, and our footprint's organic growth remains driven by strong client retention and new business wins through customer referrals. Today our mission has not changed: We will always design and deliver best-in-class bespoke services, remain responsive, flexible, and exclusively centered on providing an outstanding customer experience.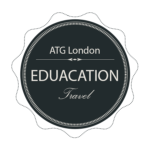 Work & Travel Opportunities tailored to your experience
 ATG London curates Work & Travel programs that help students and young professionals grow in their field of study & experience and allows them to build their resume and significantly enhance their skills.  An exceptional Educational travel experiences designed to fulfill professional career path goals , early enterprise integration, dreams and goals, so unique you won't find them anywhere else.
BUSINESS TRAVEL BY ATG LONDON
Look beyond The Definition and Into the 21st century
We're a full-service Travel Management Company, we take business travel beyond the definition and into the 21st century. travel that is mediated by human interaction, and the interplay between online engagement, travel technology and human intelligence. That's our sandbox and we have some pretty cool tools and gadgets.
LUXURY EXPERIENCES BY ATG LONDON
ATG London UK portfolio for luxury travel includes beach resorts and five-star hotel/ city breaks that still form the core of the market demand, with luxury cruises, escorted touring holidays, premium adventure and luxury holiday rentals remaining as dynamic as ever, while the nature of luxury itself is becoming increasingly intangible, diverse and personalized.